by Denis Asselin
The last two months leading up to tomorrow's walk have been truly inspirational. When we first announced the 1 Million+ Steps 4 OCD Awareness Walk in May, we weren't sure exactly what to expect. The IOCDF has never organized a walk before, and has never asked our members or the OCD community to fundraise in quite this way. But from day one you all began pledging to walk hundreds and thousands of steps for the cause, and started fundraising at your schools, offices, among your family and friends, and on social media.  And you have more than doubled our original fundraising goal!
As many of you know, Denis Asselin was the inspiration for this walk, after his amazing one-man pilgrimage in 2012 in memory of his son Nathaniel who battled OCD and body dysmorphic disorder (BDD).  While all of you were setting out on your own virtual walks or fundraising for tomorrow's big walk here in Boston, Denis set out on yet another pilgrimage. As we gear up for tomorrow's walk, we wanted to look back at the last few months and highlight some of Denis' journey, and the stories we've heard from all of you about your walking.
On May 21 Denis Asselin posted his first blog tracking his journey, writing:
"The backpack is out again, new Brooks athletic shoes have been purchased, and tomorrow I will walk out the door towards Washington, D.C."
Today, over two weeks and almost a half a million steps later, Denis is in Washington, DC, where he is taking his message of raising awareness about OCD, BDD, and mental health in general to legislators on Capital Hill. Yesterday he wrote:
"It feels like the end is approaching too fast. I want to savor and relish each moment during the two remaining days. But first of all, I need to get some sleep if I'm to be coherent among our elected representatives. Or maybe coherence is no longer a requirement in politics. I'll see.
During his journey to Washington, Denis also visited various schools to talk about how mental illness is viewed in school settings. At one school he is asked what advice he would give to schools on the issue:
"If awareness is to grow, then we all need to pay close attention to our students and their behaviors, and we need to talk, talk, and talk. Bring in the experts; learn how to have the difficult conversations; include parents in the dialogue; bring in students if at all appropriate. Mental illness affects everyone who lives in its presence. It certainly affected Judy, Carrie, and me," Denis wrote, mentioning his wife and daughter.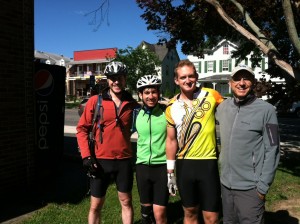 Along the way, Denis also met other "pilgrims" on their own journeys for their own causes. In Havre de Grace, MD, he and his wife Judy were telling their waitress about Denis' pilgrimage. Her face lit up and she said, "Well, you need to talk to these guys…" gesturing to three young men eating at a table nearby. It turned out these men were the owners of the three heavily loaded road bikes Denis had passed on his way into the restaurant.  Stephan, Danny, and Dave were in the middle of a bicycle journey from Manhattan to Washington, DC, where Danny was planning to continue riding his bike cross-country to San Francisco to raise money for Multiple Sclerosis. Coincidence? Denis didn't think so.
While in Maryland, Denis visited Dr. Greg Chasson at Towson University, Dr. Gerry Nestadt at the OCD and Anxiety Disorder clinic at Johns Hopkins, and Dr. Charley Mansueto's Behavioral Treatment Center of Greater Washington. He also managed a visit to the National Institute of Mental Health in Chevy Chase, MD to meet with Dr. Judith Rapaport. Unfortunately, Dr. Rapaport had to apologize for the absence of NIMH Director Dr. Thomas Insel who was called at the last minute to the Oval Office by President Obama for a summit on mental health issues. At this press conference later that day, President Obama stated:
"We whisper about mental health issues and avoid asking too many questions. The brain is a body part, too. We just know less about it. And there should be no shame in discussing or seeking help for treatable illnesses that affect too many people that we love. We've got to get rid of that embarrassment. We've got to get rid of that stigma."
Perhaps the President has been following Denis' blog?
Before going to Capital Hill, Denis also had a chance to visit the National Alliance for Mental Illness (NAMI) headquarters in Arlington, VA, and the American Foundation for Suicide Prevention (AFSP). At AFSP he meets with Nicole Gibson who handles State Advocacy and Grassroots Outreach. He writes the following in his blog:
"She and I talk about our calling to advocacy, both motivated by a huge personal loss in our lives. I wish Carrie could spend an hour with her sharing the pain and heartache of losing a sibling through suicide. Nicole knows how that feels. She shows me a picture of her brother, and I reciprocate with one of Nathaniel. Both young men deserved to live full lives."
Denis' journey has truly been inspiring to watch. I encourage you to read through blog that he has been updating throughout his journey, if you haven't already.
But Denis isn't the only one walking for OCD awareness.
We received a letter last month from a support group in New Jersey who decided to walk together one evening in lieu of their regular meeting. They all chipped in and walked over 22,000 steps and mailed in $100 for the cause. Other support groups around the country have been doing similar events. We have heard from groups from Seattle, WA to Erie, PA, who have created fundraising teams and have been walking together for OCD awareness.
Many of you have also been out running or walking everyday for the cause and sharing your updates on social media.  @DougCassaro on Twitter has already logged over 340,000 steps!
We also have seen many families come together to raise money to support a sibling or son or daughter or cousin with the disorder.
And our Affiliates have been quite active: Shannon Shy and Carter Waddell, both IOCDF Board members and part of the leadership of OCD Mid-Atlantic, joined Denis for 16,000 steps of his journey for the meeting at NIMH. OCD Massachusetts is in the top 5 fundraising teams and will have a strong presence at the Walk on Saturday, and members from OCD Philadelphia, OCD New Hampshire, and other affiliates have created fundraising pages and walk teams.
Even our institutional members have gotten in on the action.  Staff members from the OCD Institute at McLean, the MGH OCD and Related Disorders Program, the BDD Program at Rhode Island Hospital, and the BioBehavorial Institute have created walk teams and been fundraising for the cause.
We can't wait to hear from all of you about your experiences over the last few months of taking part in this walk. Please send us your photos, or leave comments below about where you've been walking, who you've been talking to about OCD and the walk, and how far you've gone!